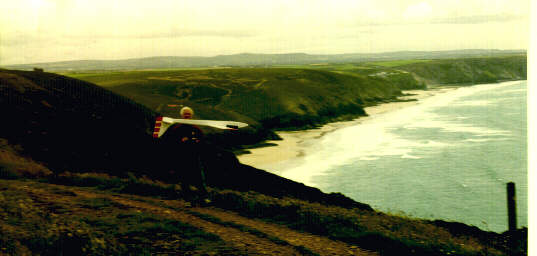 This coastal site is situated about 7 miles north of Redruth overlooking the Bristol Channel. It is easy to get to, take the B3277 to St Agnes Head off the A30 at the Truro roundabout and follow your nose. it will cope with winds from SW to NNE. The landing area is really excellent with a carpet of short tufted gorse and heather, free from turbulence and in most places rocks. It falls down on one of my requirements that of being able reach the bottom (except by boat!). This is not such a problem as model flying generally takes place over the accessible part of the site and a 'mid-air' or structural failure normally results in the pieces being blown back on to the hill! Access and parking and hence security are excellent with the vehicles being parked some 40 - 50 yards behind the flying area.
For those wishing to spend a holiday or weekend exploring its charms local hostel facilities are again excellent. We parked our caravan at Beacon Cottage Farm less than a mile from the flying site. Adjacent to Beacon Cottage Farm there is a Caravan Club site. Cornwall is not a densely populated county so 'Aggie' does not get crowded even though there are three modelling clubs within a 10 mile radius. Incidentally the Redruth club have their annual club flying weekend the first weekend in August every year and is one that I try not to miss. There are a number of points to watch out for the most obvious one being access to the bottom is out of the question so always allow an extra few feet in case of a mishap!
Also this is an open access site in that anybody can use it, including hang gliders and para-gliders. Neither are a problem as there is plenty of space for all. The hang gliders launch from where we fly but as soon as they are safely airborne go off and fly the full length of the cliffs. Hang glider performance is such these days that given reasonable lift conditions they can fly at a safe altitude and not get in our way. Para-gliders however have less freedom so they must be watched more closely but generally there is not a problem. Take care when landing as the area is very popular with walkers. It is worth taking a 'reverse' peg board with you and a few spare pegs as the locals, who are incidentally great friends of mine, rely on word of mouth frequency control. Perhaps I can persuade the editor to publish a version of my carry around peg-board as a plan supplement! Hint hint.
Summary: St Agnes Head is a top flight premier league site that provides good clean lift in the merest of breezes that does not 'flatten off' as the wind-speed increases. In addition the lack of turbulence in the landing area makes it ideal for novice pilots.
Welcome along to Johnathan and Hanna who used the slope compass to track me down at Newdows
Read more
Oct 17, 2010
With the tall bald one returning to our shores we celebrated with a BBQ
The weather came good and a great evening was had by the guys that came along
Oct 9, 2010